Click me to Visit AP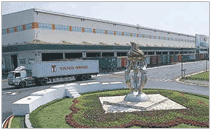 Founded in 1979, as an exporter of Automotive Replacement parts and accessories, AP quickly became recognized as the supplier of choice for quality products and superior service. Due to this rapid growth and worldwide demand, AP implemented a strategic business plan, focusing on Part Quality, Logistics Innovation and a tireless commitment to Customer Service, which has established the company as a leading Manufacturer/Consolidator of replacement automotive products and accessories.
Ultimately, as the industry continued to grow at an escalated pace, there also were more demands put upon the manufacturers to validate their quality and upgrade their customer service capabilities. Again, as a leader of the industry, AP recognized these demands and responded by constructing a new multi-functional manufacturing and logistics headquarters . After occupying this new facility in October 2000 , we continued to address the needs of our customers and introduced the ˇ§ONE STOP SHOPPINGˇ¨ & ˇ§TOTAL SOLUTIONˇ¨ customer service programs, enhancing our customer's purchasing capabilities while streamlining their on hand inventory requirements. This new facility also allowed the company to maintain and enhance its commitment to quality. We are extremely proud to have now achieved and maintained the quality standard requirements as set forth by these worldwide quality assurance agencies:


Sheet Metals
Hood, Fender, Door,
Radiator Support,
Tailgate, Valance,
Metal Bumper,
Reinforcement...
GO

Cooling Systems
Fan, Radiator ,
Condenser , Dryer,
Evaporator... GO

Plastic PartsBumper
Bumper Covers, Grilles,
Header Panels,
Nose Panels,
Headlight Mounting Panel,
Radiator Supports ...
GO